Dear Sergeant Vargas-Andrews,
First, thank you very much for your service for our nation.  As the grandson of Captain* Joseph A. Flynn, Executive Officer of the USS INDIANAPOLIS (Still At Sea) and the father of Lieutenant Paul J. Everts USNAVY, I have an understanding of your choice to live the oath you took.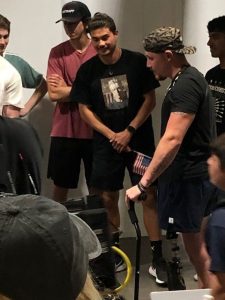 Last night (1 July 2022), my wife (Diana) and I had the honor to help welcome you back home.  I don't know you.  Yet, what I do know, for over 70 years, my mom and aunt lived with the pain from the death of their father (Killed In Action – 30 July 1945) and as a father, how I would feel if something had happened to our son, I wanted to be there for you, your family, your friends, and yes – show support for our military / nation.
Recently, I heard an interview with Tim Kennedy and Joe Rogan.  Mr. Kennedy shared his experiences in Afghanistan when all hell broke loose on or around 26 August 2021.  His stories illustrated for me what you and the thousands of others were experiencing.  HORRIFIC!  For sure.  I have no idea how anyone survives that experience and lives a life without times of continued pain.  Therefore, I pray for you.  I pray you will do all you can to enjoy every day to its fullest, as well as, when crap hits the fan, you will turn to your support system.  God bless you, Sergeant!
As you know, you have been given the opportunity to share your story.  God has kept you alive for someone!  Someone needs a story from you.  A story that can add value to thousands of people's lives.  To help remind us how blessed we are to be Americans, we need stories like the ones you can share.  To fight to keep our freedom / liberty, we need stories like yours.  To appreciate how blessed we are, we need your stories.  We need stories like the ones you can share to teach us what true courage is; to stand up to the highest level of chaos and say, "not today!"  Your stories are going to change people's lives and remind the purpose of your life and our lives.
What I am going to remember from last night is YOU – your story / your life brought together strangers!  Bringing together strangers reminds me of what a faith can do.  I can go to any church (in my case, Christian church) and I will be connected to total strangers by the faith we share.  Well, last night was the same.  Diana (my wife) and I get to the airport around 6:30pm.  No one was there and we thought, maybe we should go somewhere else to participate in the "Welcome Home."  But, sure enough.  One by one, people started to show up.  Build it and they will come.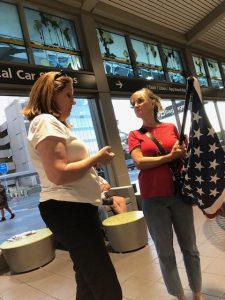 We knew NO ONE until a fellow "Blue Star Mom" showed up to share in the experience.
The anticipation was great.  Felt like a rock star was going to show up.
People on phones getting ready to take pictures.  Record the event.
And then, we see you in the glass elevator come down.  We can see your smile.
The sliding glass door opens, and the hundreds of people begin to enthusiastically cheer!!
Then … quiet.  Absolute quiet as we watch you hug who I assume are classmates / friends / family.  Very beautiful moment.
I look behind me and I see many USA FLAGS.  I see children on their dad's shoulders holding a USA FLAG or a "Welcome Home" sign.  Children getting to see what a REAL hero looks like / acts like!!  I like to use the descriptor, "it was like a Norman Rockwell painting" of a group of Americans welcoming home "their" Marine.  WOW!
Again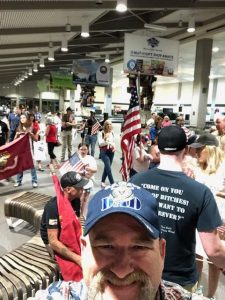 , I don't know you.  I do have a friend whose son is one of your best friends.  I believe in friends give us an idea of who a person is.  So, you must be a wonderful person because the friend you and I have in common is WONDERFUL!!  From a 56 year old stranger, I want you to please remember 1 July 2022.  Remember the smiles / hugs / cheers / USA FLAGS.   Remember all the motorcyclists / people along the route escorting you home.  I haven't seen the arrival at your home, but I can only imagine that was AMAZING.  And now you get to have a recognition at the Folsom Rodeo this weekend.  Remember all those events.  We need "Nourishment Centers."  What great "Nourishment Centers" for you to get you through the tough days and there will be tough days ahead!  Also, when you face a tough day, go tell your story!!  One way to get through a tough day, go add value to another person's life.
I am so very grateful and thankful for the experience we shared with you last night.  What last night did for me was remind me again the importance of relationships.  Be it family / friends / strangers, we need one another.  We cannot live a full life alone.  Sergeant – YOU ARE A FRICKEN HERO!!  A FRICKEN ROCK STAR!!  Look at what you have been able to accomplish in less than a year!  You are one BAD ASS Marine!  Oorah MARINE!  WELCOME HOME!
Many Blessings / Agape,
Paul D. Everts 
UNLESS YOU'VE BEEN A SOLDIER by Clive Soldier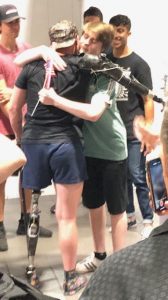 Unless you've been a soldier,
You just won't understand.
The things that we have seen and done,
In the service of our land.
We have trained to live in combat,
To cope with awful sights.
They shouldn't be seen by anyone,
And keep you awake at nights
We don't discuss the wounds we have,
To the body or the mind.
We just put our hurts behind us,
And turn our memories to blind.
We are proud we served our country,
And remember those we lost.
For the freedom that you have today,
They paid the awful cost.
May we never forget their sacrifices of yesterday, today or tomorrow. https://www.loveourvets.org  PTSD Family Support 
https://sacramento.cbslocal.com/2022/07/01/tyler-andrews-folsom-marine-hero-welcome-kabul-bombing/
https://www.youtube.com/watch?v=8HgNRffO5N0     Sergeant's welcome home video from a motorcyclist (pretty cool)
https://www.abc10.com/article/news/local/folsom-orangevale/folsom-rodeo-honoring-tyler-vargas-andrews-marine/103-fad3b691-6fd8-41a9-ab31-744a5fa1ad84