Today was the fifth consecutive day of NOT being on Facebook.  I am going to guess what I missed since September 30 afternoon:
Joe Biden did a great job at the debate.
Donald Trump did a great job at the debate. 
Donald Trump deserves to have COVID-19
God Bless Donald Trump.  Hope he recovers. 
Schools should not open.  Our children's lives are in jeopardy. 
School should open.  Our children's lives are in jeopardy.  
Joe Biden is GREAT.  
Joe Biden is a socialist.  
Donald Trump is GREAT.  
Donald Trump is a mean man doing mean things. 
Masks are wrong.
Masks save lives.  
Now, I could have missed a couple of things, but I think you get the picture / the point.  I need to step away.  I tend to lean to the libertarian form of government.  Maybe a part of the constitutional party.  One "party" I don't want to be a part of?  THE EMOTIONAL PARTY!  Damn.  
When you are a public school teacher, you are expected to be a certain person.  When you are not like or not like-minded, you are shunned.  So, here I go. 
Well, here is me: 
CAUCASIAN;
HETEROSEXUAL MALE; 
54 YEARS-OLD;
HAPPILY MARRIED TO A WOMAN SINCE MARCH 30, 1991;
FATHER OF TWO;
GRANDFATHER OF ONE;
JUDGE A HUMAN BY THEIR ACTIONS AND NOT THE COLOR OF THEIR SKIN OR THEIR GENITALIA OR WHAT THEY THINK THEIR GENITALIA REPRESENTS;  
BELIEVE WE ARE MADE IN THE IMAGE OF "GOD" – HENCE, WE ARE HUMAN BEINGS.  
FEMALE ATHLETES SHOULD COMPETE AGAINST BIOLOGICAL FEMALE ATHLETES; THERE SHOULD BE AN "OPEN" DIVISION;
TRANSGENDER FOLKS NEED TO COMPETE AGAINST TRANSGENDER FOLKS OR IN AN "OPEN" DIVISION AGAINST MALES & FEMALES
I AM PRO WOMEN WHO WANT TO BE A WIFE / MOTHER / PROFESSIONAL AND ALSO PRO-WOMEN WHO DON'T. 
HAVING BEEN RAISED IN A SINGLE-PARENT HOME, I LOVE THE "NUCLEAR FAMILY."  WOULD HAVE MADE A DIFFERENCE IN MY LIFE.
I GET GOOSEBUMPS WHEN I HEAR "

AMERICA THE BEAUTIFUL

" OR "

BATTLE HYMN OF THE REPUBLIC

." 
CRITICAL RACE THEORY IS RACIST.  WHAT IBRAM KENDI SAID ABOUT JUDGE BARRETT AND HER HUSBAND ADOPTING TWO HAITIAN CHILDREN AS BEING "COLONIALIST" (paraphrased) IS DISGUSTING.  "Some White colonizers 'adopted' Black children," Kendi wrote on Twitter. "They 'civilized' these 'savage' children in the 'superior' ways of White people, while using them as props in their lifelong pictures of denial, while cutting the biological parents of these children out of the picture of humanity."  
I STAND FOR THE FLAG AND KNEEL FOR THE CROSS / JESUS CHRIST 
AND MORE … 
Much of what I list about me leads others to label me as a "narrow-minded white man" and has led to losing friends / hurting relationships.  As of October 5, 2020, I am not a "typical" public school teacher in California. 
So, when I was reading all the comments on Facebook about the debate, that did it for me and I am so grateful to have made the decision to take a break.  
To see all the CRAP on the news about "wish president Trump would die" or "thank COVID for getting to the president," (paraphrased) I can now IMAGINE what was on Facebook and NOT having to see it!  Read it.  I encourage all of you to please take some time off Facebook.  It will do your soul wonders.  
Below is my final post (for now) on FACEBOOK.  Please… we need your help.  Please share this with THE WORLD.  Thank you for your support.  
Today (September 30, 2020) – our son / one of my heroes asked me to do something that I can do.  His request comes out of love … I will respond to his request.  "Dad, I think you should get off Facebook for a while?"
So, beginning October 1, I will be off Facebook for who knows how long … 
So here is my "manifesto." 
When there are people who refuse to acknowledge bad behavior from their party leaders…  Meaning … if the leader is a fellow "BLANKEN-PARTY," his actions are acceptable, while in the opponent's "FILLIN-PARTY" commit the same actions, those same actions are deemed wrong — I just need to step away.  
At last night's debate, there were plenty of gaffs.  Trump told some humdingers and so did Biden.  
No president should be called names.  No opponent's family should be brought into a debate.  No president should be called the worst president in our nation's history when we have had presidents like… BUCHANNAN; JOHNSON; PIERCE; HOOVER… just to name a few.  Again, attempting to re-write history.  
You (anti-Trump folks) accuse the President of being misogynistic. Saying dreadful things about women (TRUE – BTW! – He said those things). Mistreats women.  And yet, the same people who criticize the President, look the other way with Senator Harris and her relationship with Willie Brown?  (even your favorite "SNOPES" says there is some "truth" in that story) …  Please… 
Folks … when you cannot have the ability to look at your candidate and say, "What are you doing?  What did you just say?"  Your devotion to your leader has gone too far for me.  
We keep hearing the "cult" word come out.  Well, there is validity. a system of religious veneration and devotion directed toward a particular figure or object. I would encourage you to do all you can to keep your minds open.  
Do all you can to show:  COURAGE. TEMPERANCE. JUSTICE. WISDOM.  
These are the four virtues of STOICISM.  They are the most essential values in Stoic philosophy. "If, at some point in your life," Marcus Aurelius wrote, "you should come across anything better than justice, truth, self-control, courage—it must be an extraordinary thing indeed." That was almost twenty centuries ago. We have discovered a lot of things since then—automobiles, the Internet, cures for diseases that were previously a death sentence—but have we found anything better?
…than being brave
…than moderation and sobriety
…than doing what's right
…than truth and understanding?

https://www.dailystoic.com
What finally got me to say, I am done for a while with FACEBOOK… is this post from our possible future president… says, :  There's no other way to put it, the President of the United States refused to disavow white supremacists on the debate stage last night.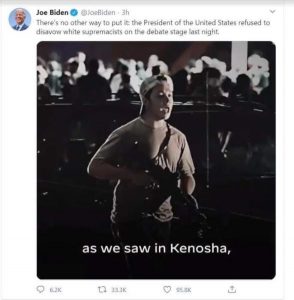 That comment has nothing to do with this young man!  And yet, FACEBOOK allows this to stay posted?  
There is no proof this young man is an active white supremacist.  What white supremacist group does he belong to? 
He has now been given that label / branded that label by our possible future president.  
Being a high school teacher for thirty years and seeing this teenage boy and knowing what teenagers face, his life can now be ruined.  What "courage" did you show by posting this, yet you will not post a picture of a BLM activist yelling at some people at a restaurant, Mr. Vice President?  You said you were against violence!  SHOW A PICTURE OF BLM OR ANTIFA COMMITTING VIOLENT ACTS!  Where is the "temperance" in posting this picture with your accusation he is a white supremacist, Mr. Vice President?  Where is the "justice" in this post, Mr. Vice President?  With your seventy-eight years of living and your forty-seven years of being an elected politician, where is your "wisdom" in thinking this post is an attempt to unite the country, Mr. Vice President? 
Mr. Trump & Mr. Biden – you disappointed many people last night (September 30, 2020) at that first debate.  Not your "followers" / your "believers."  You will NEVER disappoint those folks!  Like Jim Jones' followers on November 18, 1978 (I believe Vice President Biden was in his first term as senator)  – your followers have drunk the kool-aid.  There are plenty of others breaking bread / drinking wine, gentlemen!  
So, I will bid you – FACEBOOK –  farewell.  Until we meet again!  I love you PJ!!  Thanks for the advice. 
We need your contribution.  Thank you. 
https://bit.ly/3g7Rn1p
https://www.youtube.com/watch?v=n1nQdP5hVxw
http://www.band2gether.podomatic.com
Email:  band2gether@comcast.net