From March 8 -12, 2019, for the first time, I attended the John Maxwell: INTERNATIONAL MAXWELL CERTIFICATION event. John Maxwell is my "LEADERSHIP-GURU." Next to the Bible, every book Dr. Maxwell has written, I have read for the sole purpose of IMPROVING. The only exception to what I just said about "every" book, are the "little" Maxwell books you can get in the airport or a Hallmark store. But, since 1997, I have read every book Dr. Maxwell has written.
If I were going to give this blog "entry" a theme it would be: THE POWER OF BEING WITH PEOPLE WHO SHARE SIMILAR VALUES.
Since July 3, 1989, I have taught high school music – non-stop. No sabbatical. No time to take classes. Twenty-nine straight years. I have attended many state teachers' conferences. Not a national state conference; let alone, an international state conference.
I have never felt more loved, encouraged and connected than I did at the March 9 – 12 INTERNATIONAL MAXWELL CERIFICATION (IMC)! And as much as I loved the experience at the IMC, it was a little disheartening, because I can feel myself fading from high school MUSIC. Not high school entirely, but high school music. Part of the reason for that "fading," I am still "connected" with folks I met for one weekend / from another state. Heck. I wait for a longtime to connect with folks who are fifteen minutes away from me. I STILL LOVE'EM… will always love'em. But, it is interesting to see how those long term friendships seem to fade. It takes a lot of "work" to be a friend.
To sit with people from Kenya, Georgia, Missouri, Florida and many other states / nations, and all have the same desire to be better people, help others be better people and add value to people is – how would I say it – MAGICAL(?). Seriously. It was "magic." I was with total strangers. It was the first time I had been at this conference. I was by myself. Yet, I did not feel as if it was the first time or if I was by myself. That is the "magic" of the time spent with these beautiful people!
I do get concerned with the "group-think" / "tribal-think." Yet, for some reason, this THE POWER OF BEING WITH PEOPLE WHO SHARE SIMILAR VALUES was super positive. We want to go out to THE WORLD and get folks to understand there are values that transcend the "barriers" we have placed. Barriers, such as, gender, race, ethnicity, religion, language and on and on!
Who doesn't want to live in a world full of respect? Full of responsible people? Full of discipline?
And, all those wonderful values, again, transcends and can break through the barriers.
There were several highlights from my time.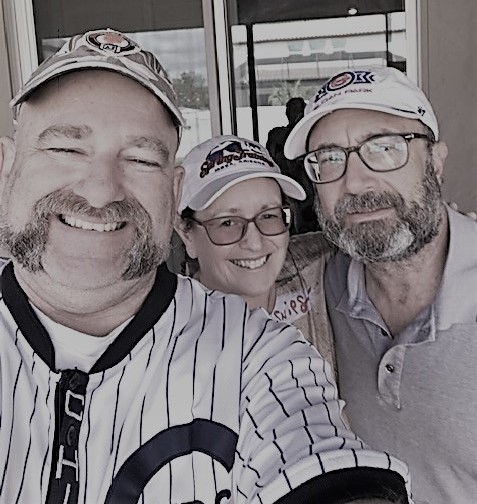 One highlight was being with Phyllis & Marc Newman. Phyllis & Marc are parents of one of my former high school band students. A little over a year ago, they moved from Granite Bay, California to Orlando, Florida. I said to them – A YEAR AGO – "Wouldn't it be cool if I could be with you when I was at the IMC event?" AND IT WAS MORE THAN COOL. They are so giving. Treated me with so much love. Unconditional love. It has been a long time I was able to be with that "level" of friendship by myself. That may sound odd. I don't want it to sound odd. My wife (Diana) has been my friend since 1987. My wife since March 30, 1991. I have a lot of unconditional love from her. A LOT! And, I am blessed to have many friends who will give with no strings attached. And, the level of giving from Phyllis & Marc (arranging their schedules to drive me to and from the conference every day and to an ; meals; "whatever you need" was said a hundred times) was special
To be with others who were "whatever you need, Paul…" was humbling. FOUR DAYS!!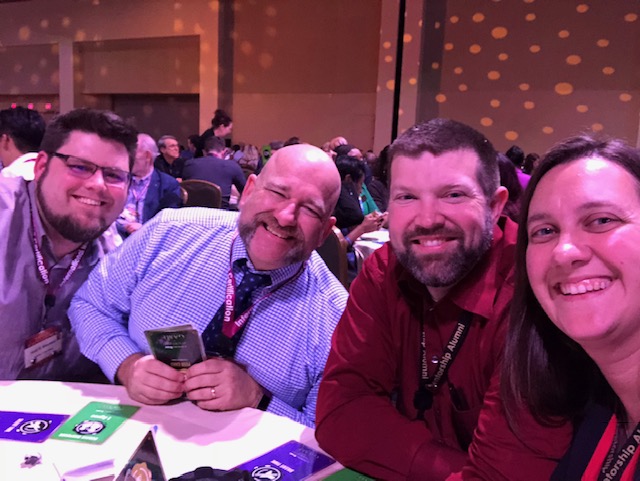 Another highlight was meeting Michelle & Brian Livingston from Georgia and Scott Blanchard from Louisiana! WOW!! Three people who are also attempting to put light into darkness. Michelle – Nurse. Brian – Roofer. Scott – teacher / coach. And the way we were behaving towards one another, you would have thought we had been friends for at least ten years.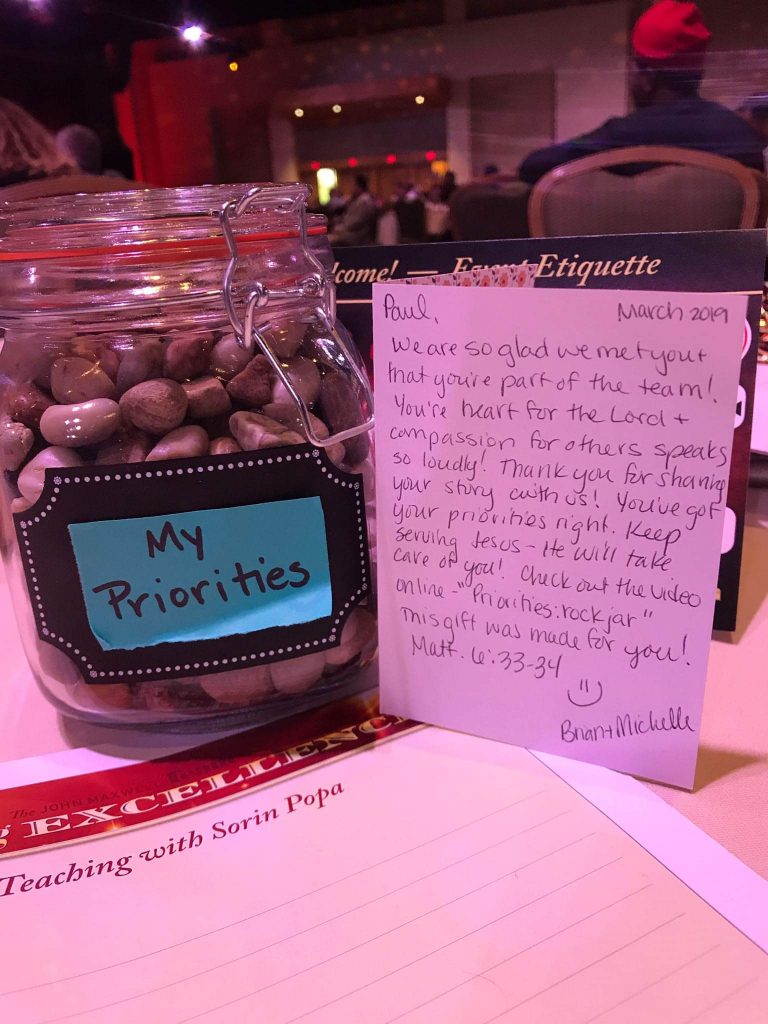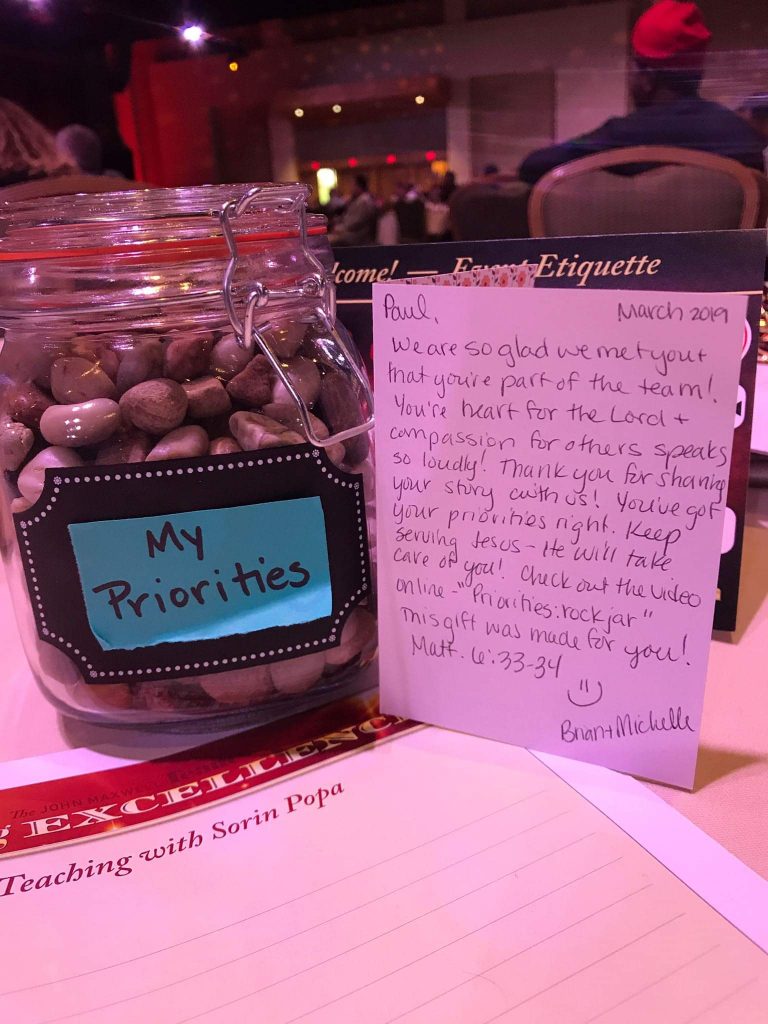 The gift that Michelle & Brian gave me … ONE OF THE NICEST / BEST GIFTS I HAVE RECEIVED from COMPLETE STRANGERS (no longer strangers – btw).
Two more high lights form the INTERNATIONAL MAXWELL CERTIFICATION event…
Seeing him for the first time and shaking his hand for the first time since August 4, 2002 – Dr. John C. Maxwell. On August 4, 2002, I met Dr. Maxwell in Rocklin, California. He preached for a small church of hundred people that day. INCREDIBLE MOMENT FOR ME. At the IMC, I had him autograph a book for me. Stood in a long line … HUNDREDS OF PATIENT PEOPLE waiting. Get up there. Hand him the book. "Woa!" He leans back in his chair. "Now, that is an old book!" The expression was PRICELESS. My new friend from Louisiana, Scott. "Damn. I wish I had taken a video of that moment. That was cool!"
It was super cool. The book? BREAKTHROUGH PARENTING. I think I may have sold at least ten copies of that book that week. I LOVE "BREAKTHROUGH PARENTING." GET THAT BOOK, PEOPLE!!
And, then as Dr. Maxwell was smiling, I said, "Rocklin, California … 2002." With a nice smile, "That was a long time ago, Friend." Yes, it was but it was such an important day for me. That day, August 4, 2002 confirmed how special John Maxwell is to me.
And then, the final highlight … meeting the CEO of the John Maxwell Corporation, Mark Cole.
In October 2017, I had a meeting with the Principal / Assistant Principal / Union president over the use of the John Maxwell material with my students. After nine years of using the material at Dublin High School in Dublin, California, ONE PARENT complained. The complaint was – the material was "sacred / Christian." No. No it is not. FORTUNE 500 COMPANIES use it. Governments from around the world use his teachings.
I was furious to have the one tool that I had been using with my Dublin High School students for nine years taken away. Be labeled as something not suitable for public high schools. And…the administration NEVER attended one of the weekly lunch time meetings. Never… and they still were able to arrive to their conclusion that material is inappropriate. Sad…
Not, wanting to "just take it & find something else," I reached out to the MAXWELL TEAM. Went through certain levels starting with the sales lady (Irish – super person); then to a upper-level management person (Thomas); then to the CEO – Mark Cole.
Mark wrote and sent to Dublin High School administration a beautiful two-page letter in support of the OUTSTANDING Maxwell material and me. Mark also gave the Dublin High School administration three books. Very classy. That same school year, 2016-17, I left Dublin High School. Part of the decision was the administration directing me not use John Maxwell's materials. Poor decision on their part. Very good decision for me.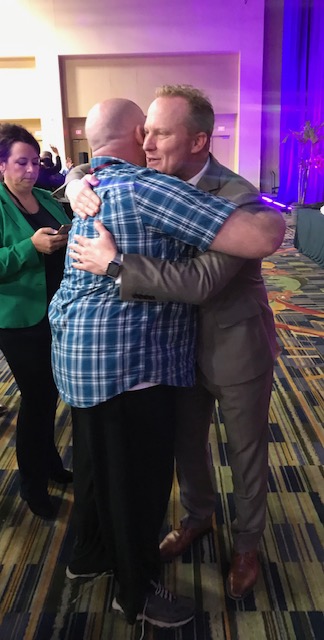 Well, my IMC experience would have fallen short if I did not PERSONALLY thank Mark for supporting a complete stranger. Trusting me that I was (STILL AM) properly sharing Dr. Maxwell's awesome material. Blind trust never felt so inspiring.
So, following Mark's presentation (which was strong), I waited at the bottom of the stairs. Walked towards him. Tears in my eyes and was able to shake his hand and give / receive a huge hug. I miss hugs. Seriously. I am not able to or allowed to give as many hugs as I would like. What a moment.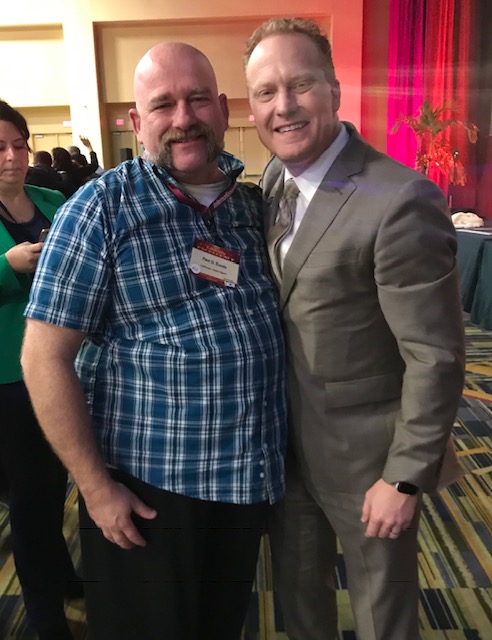 Folks … find people who share the same vision you have, BUT… BUT… BUT… a vision that only wants to help and love people! I am seeing many folks who have a vision. To support their vision they shout out others who disagree? Right? Showing their vision by taking bike locks crushing people's heads. Spraying crap on people. That is not love, folks! It is not.
I believe humans are meant to be in groups. Studies show how humans need to be in a group.
Check your group(s). Ask yourself questions about the group and do your best to see if the answers are the answers you would like to have people say about you! Do the group's goals / vision / mission statement line up with your personal beliefs? Do you believe, to support your vision / mission, it takes a bike lock to a head, then so be it? If not, get out of the group.
Self-analysis / assessment is a "great" challenge. So, if being honest with yourself is tough to answer, ask "Would your parents be happy to tell others you are part of that group?" "Would you want your son / daughter to be a part of that group?" Answer "no" to either question, you may want to re-think your participation in that group.
I am so thankful to GOD for giving me such a wonderful time. For placing healing salve on soulful wounds. I do hope the time spent in Orlando was the "seed" that will give me the ability to grow to the next levels in my life, as well as, continue to support and love many more people in the future.