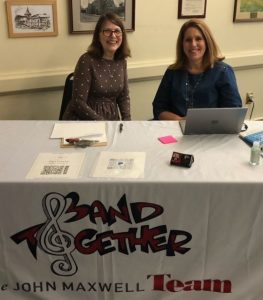 We had only one April 30, 2022, and I gotta tell ya – it was the very best April 30, 2022, I could have ever had.
The next day, TODAY, I am exhausted!  I needed to take time to pause and reflect on what happened on April 30, 2022, in Visalia at the First Presbyterian Church of Visalia.
I had the HONOR of sharing John Maxwell's THE 15 INVALUABLE LAWS OF GROWTH https://www.amazon.com/15-Invaluable-Laws-Growth-Potential/dp/1599953676/ref=tmm_pap_swatch_0?_encoding=UTF8&qid=1651431316&sr=8-1  and truly – it was an honor.  This honor would be the first time I would stand in front of a group of people who were not music teachers and/or music students.  The honor was shared with around 75 people.  Many of them strangers.  We had people from Kaweah Health Medical Center, including their CEO and head of Human Resources; sheriffs from Tulare County; county jail employees; Livia products and several others who attended on their own!
What I learned right from the start … PEOPLE ARE PEOPLE.  There are plenty of people who want to know how to be better people and I regained my passion.
One of the reasons I wanted to be a high school music teacher was to be given the opportunity to help teens (young adults) grow!  In the beginning, it was just about the music.
Then, in 1991, I found a book THE SEVEN HABITS OF HIGHLY EFFECTIVE PEOPLE by Stephen Covey https://www.amazon.com/Habits-Highly-Effective-People-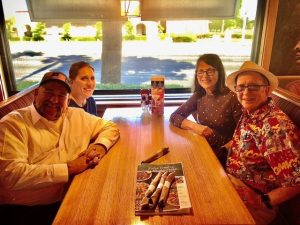 Powerful/dp/1982137274/ref=sr_1_1?crid=237Z91UBHTJI2&keywords=7+habits+of+highly+effective+people&qid=1651428734&s=books&sprefix=7+habits%2Cstripbooks%2C592&sr=1-1  I read that book when I was around 25 years old.  Next to THE BILBE, THAT BOOK IS A GAME CHANGER.  I brought that book to the band room.
Then, I found CHICKEN SOUP FOR THE TEENAGE SOUL  Chicken Soup for the Teenage Soul: Stories of Life, Love and Learning: Canfield, Jack, Hansen, Mark Victor, Kirberger, Kimberly: 9781623610463: Books (amazon.com) I brought that book to the band room and then I found DEVELOPING THE LEADER WITHIN YOU by John C. Maxwell https://www.amazon.com/Developing-Leader-Within-You-2-0/dp/0718074084/ref=tmm_pap_swatch_0?_encoding=UTF8&qid=1651428662&sr=8-1  and was THE game changer.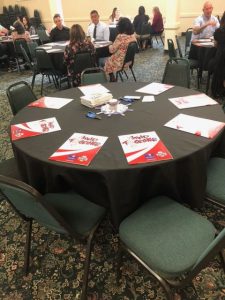 All these books would make me a better teacher and more importantly – a better man.
Since I read THE SEVEN HABITS OF HIGHLY EFFECTIVE PEOPLE (1991) and read many other books until to October 6, 2016, I would incorporate what I read from those authors / genre of books to my band students.  Considering I would spend four years with many of them, go to all day competitions with them, take them on tours, I needed to do more with our relationship than just music.  I needed to get them to understand what I expected from ME and therefore, from my students.
I loved watching the students use this rich material to help them be better.  I truly believe better people make better leaders / better musicians / better fill-in-the-blank.  My goal was not for them to be the best musician, it was to be the best human / best husband / best wife / best father / best mother / best friend and so-forth-and-so-on.
But, on October 6, 2016, I was told, "You are not to use anymore John Maxwell material with the students and you need to stick to the subject:  music."
I asked the administrator, "Why?"
"Because, we had a parent complain that this was not part of the curriculum and therefore, you must stop." (Seeing all the articles about what teachers are teaching in "today's" classrooms, I now LAUGH at what I was told to stop teaching.  I know what I was teaching was for the good of all: RESPECT + RESPONSIBLITY + SELF-DISCIPLINE = BETTER PEOPLE / BETTER SOCIETY.  I leave it at that – FOR NOW)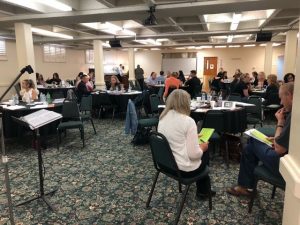 Well, that directive caused me to re-think my purpose and my passion at "Killarney High School."  Later that school year, in the parking lot of a high school competition, I was accosted by a band parent and that did it for me.  I was finished.
If I was not allowed to continue to fulfill my purpose and my passion (creating better human beings who happened to be musicians), I needed to go to the next "village."
So, in the Fall of 2017, I returned to where I taught from 1997-2005.  It would be a different high school ("Pinecrest High School") in the same district, but that district really appreciated what I did from 1997-2005.
Make along story short.  I was told to not teach material from such books by John Maxwell or Stephen Covey, do not tell life stories, and stick to the subject.
On December 22, 2021, I taught my final class at "Pinecrest High School."  Now, what to do?
One of my few friends is Chaplain John.  He and I have known one another for six years.  We met on a 2016 cruise to Alaska.  Ever since that cruise, we have talked on the phone almost once-a-week!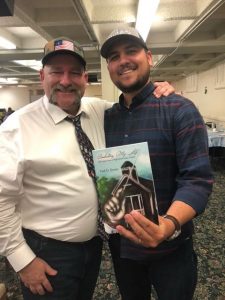 When I told Chaplain John, I was retiring (really – "sabbatical" until a school wants my purpose and passion to be a part of their purpose and passion) he said, "IT'S TIME FOR JOHN MAXWELL!  You need to come to Visalia and give a seminar!  I will help you."
On January 28, 2022, Chaplain John organized a meeting at Café 210.  Café 210 used to be a bar.  The First Presbyterian Church of Visalia purchased the building and turned it into a coffeehouse.  PRETTY COOL IDEA!  That needs to be a book / movie!  At that meeting, we had a six people.  John and I left that meeting believing, "This is going to happen."
The "BAND TOGETHER VISALIA TEAM" met several times.  To encourage them, I would make them "Motivational Monday Moment" videos.
Beginning in March, every week, Monday-through-Saturday, I sent thirty-forty emails to over 175 Visalia businesses encouraging them to be a part of a special seminar.
And now… the moment happened.  "God's Moment."
On Friday (April 29, 2022), Diana and I drive from Roseville, CA to Visalia, CA.  Just about a four-hour drive.  During that drive we discussed what was going to happen.  We also listened to Joe Rogan interview Douglas Murray.  GREAT INTERVIEW.  Highly recommend that episode.
We are arrived at Chaplain John and his wife's (Gail).  Chaplain John and Gail are in their late sixties / early seventies.  We still joke about the fact that Chaplain John and Gail are Paul and Diana sixteen years later.  Chaplain John and I tend to be outgoing / social.  Chaplain John more so than me.  Gail and Diana are both music therapy majors and no so outgoing.  As Chaplain John would say, "During the cruise, Gail and Diana would keep their space from us."  Very funny!  Opposites attract?
The next morning (April 30, 2022) the four of us arrive at the First Presbyterian Church of Visalia around 7am.  I am super tired.  I could not sleep the night before.  I was so wound up about the next day.  After all this was going to be the first time I was going to be presenting an important part of life to a group of people I had no connection to (at the time… I learned later … we had a different connection than what I was familiar with).
Registration was at 8am and sure enough folks started showing up and I thought, "Oh my goodness … this is really happening.  It is our "FIELD OF DREAMS" moment:  BUILD IT AND THEY WILL COME, PAUL!
I don't want to bore y'all with all the goings on for the day.  WE are at 1,104 words (giggle).
What I do want to make clear in this article is PLEASE… Please… when your purpose and passion are not in alignment with your job's purpose and passion and you find yourself being miserable – consider quitting.  In the past, I would shun the idea of quitting.  Yet, after what I experienced on our only April 30, 2022, I now would ask all of you, "Why would you do something that causes you misery and then call that 'life'?"
Do I miss my students?  Yes.
Do I miss the opportunity to stand up in front of people making music together?  Yes.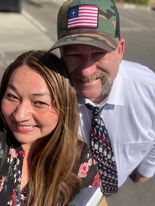 Do I miss my colleagues who have walked away from me, or I walked away from them for whatever reason?  Yes.
But, what I missed even more than all of that?  Sharing with others how to be better.  How to grow!
On April 30, 2022, people (who are not music teachers / not music students) took a risk on a dude who had NEVER… NEVER… stood up in front of people and said, "Do want to learn how to grow?  LET'S GO!  LET'S GROW TOGETHER."
Thanks to these people, special thanks to Chaplain John, Gail, the BAND TOGETHER VISALIA TEAM and of course my amazing wife, Diana, I GREW!  I had a win.  I was able to add value to others' lives and at the same time, add value to my life.
I did what Law Number Seven says, "The Law of Pain:  Good Management of Bad Experiences Leads to Great Growth."  "Every Problem introduces a person to himself." – John McDonnell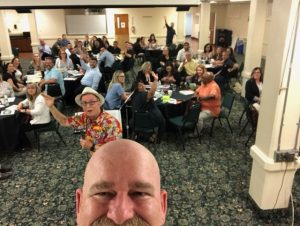 And now writing this article, I am doing Law Number Eight, "The Law of Reflection:  Learning to Pause Allows Growth to Catch-up with you."  "Follow effective action with quiet reflection.  From the quiet reflection will come even more effective action."  Peter F. Drucker
What did I love most about April 30, 2022?  People coming together to learn how to grow
What did I learn?  Purpose TIMES Passion = UNBELIEVABLE MOMENT(S)
And I leave you with:  THE POWER OF PAUSING (from John C. Maxwell)
Reflection turns experience to insight
Everyone needs a time and a place to pause (during April 30, 2022 – I would sit, pause, and observe the people working with one another; smile; genuinely care for one another and that would invigorate me to keep going)
Pausing with intention expands and enriches thinking. Study the lives of the great people who have made an impact on the world, and you will find that in virtually every case, they spent considerable amount of time alone thinking.  Henri J.M. Nouwen observed, "When you are able to create a lonely place in the middle of your action and concerns, your successes and failures slowly can lose some of their power over you."
When you take time to pause, use your I's

INVESTIGATION
INCUBATION (taking an experience of life and putting it into the slow cooker of your mind to simmer for a while)
ILLUMINATION
ILLUSTRATION
I am so grateful for all (literally ALL) that happened prior to April 30, 2022, on April 30, 2022, and what can and will happen following April 30, 2022.  There are so many people to give thanks to and appreciation.  Let me put it this way:  IF YOU WERE A PERSON WHO SENT MONEY / SENT PRAYERS / SENT WORDS OF LOVE AND ENCOURAGEMENT / WAS IN THE ROOM AT THE FIRST PRESBYTERIAN CHURCH OF VISALIA … if that describes you … THANK YOU … THANK YOU … THANK YOU! There is no way I could have had the best April 30, 2022, if it wasn't for others.  I LOVE YOU!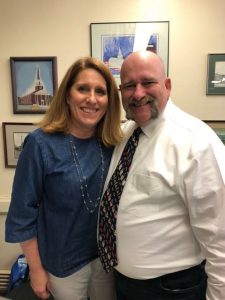 Please fully understand, appreciate in allowing me to give the special "I LOVE YOU!" to my wife, Diana.  Diana has experienced every thorn and rose that I have had and will have.  With a lot of people's willingness to take a chance on us – Diana, WE DID IT!
On to the next opportunity to add value to others … and us!