I have come to the conclusion that my Facebook posts are similar to the ball bouncing on a roulette wheel.  And instead of black and read, the colors are blue (democrat) and red (republican).
On Sunday (11/5/2023), I had a childhood friend admonish me because my Facebook posts were too negative / too political.  And thee is the bouncing ball on the roulette wheel.
I was shocked by the admonishment.
My recent posts include: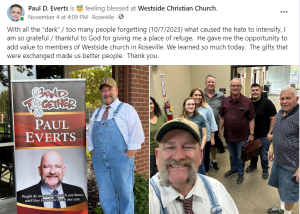 Now, that I have listed the posts, I can see why there are those who would give me a label.  Yet, I am not here to earn a label.  Earn a medal.  I am here to share.  There is no intent to have people get mad at me or create enemies.  I don't wake-up and ask, "Who can I make mad today on Facebook?"
My taste in posts is not for everyone.  Again, I do not post thinking about improving my "social credit score" / reputation.
For over thirty years, I was a high school music teacher.  There were students, their families, and colleagues, who taught me, I am not for everyone.
On Saturday (11/4/2023), I led a fantastic seminar.  We had a lot of fun and learned a lot about how to get better.  One of the points made at that seminar, when I was younger, my reputation was super important to me.  At 57 and of course getting older,  I am more concerned about what is inside and what is happening with me and Jesus Christ.  I do wish I would have started to be more concerned about what is inside me at an earlier age!
I have a reputation (what others think about me) and I have character (what God and I know about me).  My Facebook posts are not meant to boost my reputation (how others see me / think of me).  Actually, my Facebook posts are a reflection of what is in the inside.  I post knowing God knows ahead of time what I am going to post.
At church Sunday (11/5/2023), the guest pastor did a wonderful sermon, "Finding God in a Rat Race World."  He based his sermon on, Matthew 11:28-29  28 Come to Me, all who are weary and burdened, and I will give you rest. 29 Take My yoke upon you and learn from Me, for I am gentle and humble in heart, and 'you will find rest for your souls. (Tree of Life version) 
The guest pastor concluded his sermon with this prayer:
I give everything and everyone back to You.  I give You my time, my money, my possessions, my influence, my family, my legacy, my health…"
The prayer I shared with you from Sunday's sermon is for my Facebook / social media.  I give You my Facebook posts (smile).  Therefore, giving to the Lord, I will continue to share what I know and pray that others will consider there is more to me than a Facebook post they agree or disagree with.
Continue to learn / know that others who are around us are going to bounce around like a ball on a roulette wheel.
In the case of Facebook, sometimes that ball (my Facebook post) is going to bounce and land on the "correct" color and number and other times, it will be a loser.
As for me and God, that ball is dedicated to God and He is going to help that ball land on the "correct" color and number.