Dear Jason Paul (JP):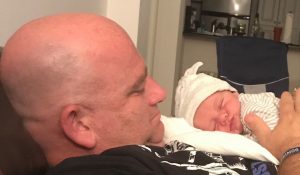 Well, this is – what I hope – will be the first of several / MANY letters to you little man.  I just got home from my first time meeting you.  Following the September 15th, 10am-5pm rehearsal for the marching band / color guard at Oakmont High School, your grandma and I boarded a plane.  Around 10:30pm in San Diego, we knocked on the apartment door (by the way… you live in a beautiful apartment; very blessed y'all are).  Your dad opened the door and big hugs.
I was so happy to see your mom's mom and dad there.  They are your maternal grandparents.  First time we had seen them since your mom and dad's wedding May 20, 2017!!  OVER A YEAR.  Happy to say – we all agreed A YEAR IS TOO LONG BETWEEN VISITS.
My. My. My.  You are BREATHTAKING BUDDY!  You look damn near perfect!  I am not the only saying that.  Many of my friends / students mention how beautiful you are.  When you were handed to me it was all I could do to maintain my composure!  I wanted to cry, but I thought, "WHY?"  Instead … I felt this incredible sense of calmness and love.  You have that way about you.
So, we all stayed awake and enjoyed our company.  You barely cried.  And one thing that is cool about you and your crying / fussiness?  It's with a purpose.  You only cry and fuss when your diaper needs changing or you are hungry.  Gosh!  I hope that will continue about you.  Crying / fussing for a purpose, not for attention.  By the way – the first two weeks of your life??  You could not have had more attention.
Grandma / Grandpa Reid left on September 16, 2018 to go back home to Port Angeles.  They REALLY love you JP.  It's wonderful to watch them with you.
Then, your Grandpa / Grandma Everts stayed and we simply enjoyed one another's company.  We watched some football (Grandpa Everts WON that week; picked the winners ?).  We cuddled.  Snuggled.
On Monday, September 17, 2018, After two weeks off, your dad went back to work on the ship he serves as an Ensign.  So, it was your mom, grandma and me.  One of the highlights of that day?  You "spitting-up" all over my shirt.  I felt that was a sign of comfort and love.  We loved seeing "tummy-time."  We love seeing how strong you are.  Already holding up your head. Not for a long time, but noticeable.  Spending time with you is a joy.
Then, to see your response to your daddy coming home for work – BEAUTIFUL.  You snuggled hard on him.  Loved seeing the two of you sleeping. You on his chest.  And he holding you.  Your Grandma and I decided to leave so you all could have some family time.  It was a rough one for me, JP.  I did cry … FINALLY.  I hate to say good-bye to your Dad.  Y'all mean the world to me and your dad will always be my son.  It is difficult to say good-bye to my son.  I knew it would be for months until I would see your dad.
Today was ROUGH!  It was time to say "good-bye" not knowing for sure the next time we all would be together.   When we visit, there is always a chance for us to be together and yet, with your dad being in the NAVY, there are chances he will be on the ship and unable to be with us.  Your dad, JP, is a hero.  It takes a lot to be in the NAVY.  Your mom is as much as a hero.  To be married to someone in the NAVY or the military takes a lot of patience and ABSOLUTE SELF-LESS LOVE (Agape).  Your mom is strong!  JP, you are certainly blessed to have great parents.  More children need great parents.
I want to close by sharing with you some things to think about as you grow older.  Not many.  Hopefully, we have many years to share many lessons.
HONOR YOUR PARENTS
Do things that will cause your parents to REALLY LIKE you.  They will love you, JP. No doubt.  But, remember … when you do things they don't like, it can lead to a bad relationship.
And one more, for now …
LISTEN TO GOD!!  FOLLOW GOD!!
You are going to hear more about GOD.  In the end, He is the one who is going to give you the best lessons and therefore, THE BEST TESTS.  We will be here for you.  He will be here for you ALWAYS.
I love you forever and always.
Grandpa (don't have a cool name yet)